What are Secret Strips? How can it helps you to combat wrinkles and aging?
Secret Strips are a water based microcrystal and gel system in the form of strips for various areas of the face to combat signs of anti aging. The strips work to smooth out lines and stretch the skin in order to firm it. The application of hyaluronic acid before and after the application of the Secret Strips moisturizes the skin as well as creates a stronger water barrier underneath the first few layers of the skin.
Why Choose Secret Strips For Wrinkles Solution?
Local Drug Store
Price is cheaper, able to stock in big quantity

Easy to Apply, but not guarantee for effectiveness

Quality are often Varied depend on suppliers, usually not passed by stricted lab exams
Secret strips
Mid range price, it's not cheapest but definitely affordable in long term

Can reapply multiple of time, one package for all including masks and hyaluronic acid

Use innovative technologies, quality assured and tested by multiple lab certifications
Higher Branded Creams
Quality assured but usually overpriced

Cannot guarantee effectiveness, only work in termperaly

Cannot reapply the products
Why is its technology so amazing?

Secret Strips use a unique technology that implements 'multi-dimension lifting' in cosmetics. To put it more simply, once the strips have been applied to the skin, the strips create an elastic net that will smooth out and tighten the skin. This is done through the 3D matrix of microcrystal fibres embedded in the strips. The honeycomb-like net created by the microcrystals responds to the naturally elevated temperature of your skin. The net expands and stretches out in six different directions once activated.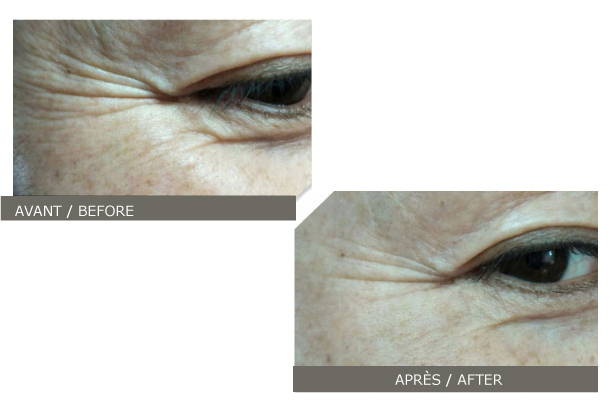 Core technology 1
Embedded Matrix elastic fiber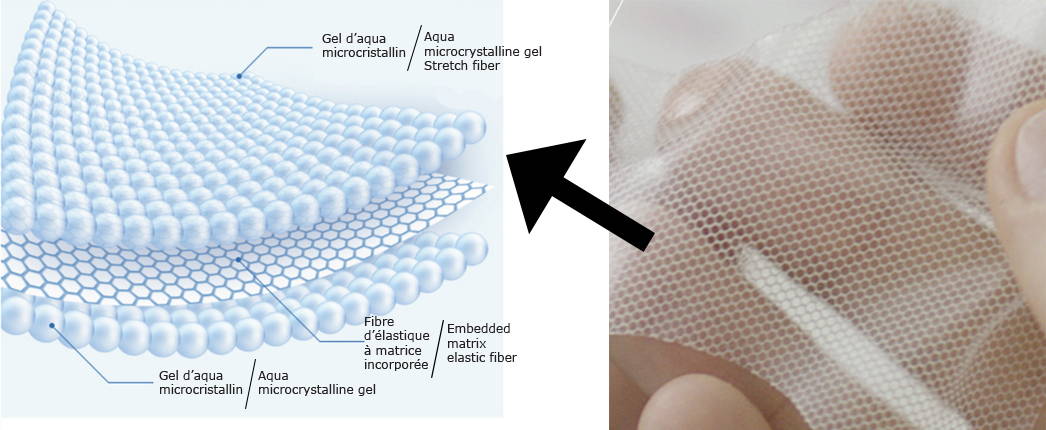 The application of multidimensional lifting shifts from cosmetics to anti aging technology.This special elastic structure gives the secret strips a unique anti-aging ability, a 6-way mechanical average distribution that will build an elastic net on the skin, so that it is naturally tightened and wrinkles are smoothed.- While wearing Secret Strips the elastic tension will also limit movements of expression, controlling and preventing further wrinkles and folds that are often a consequence of facial expressions. The elastic tension will also quickly help to restore signs of aging from frown lines.- The elastic structure also provides a tightening and lifting function. As well as provide anti-gravity reverse lifting, so that sagging skin is firmed and tighten in an upwards process.
Core technology 2
Patent with water soluble microcrystalline gel
Helps restore moisture to the skin and builds up the skin's barriers ability to retain moisture-Can keep Secret Strips in room temperate for up to 5000 hours before starting to dry out. Condensed crystallites can delay the release rate of the active ingredient, thereby matching the absorption rate of the skin, providing and achieving the 5% gold moisturizing ratio required by the skin-The sustained release of water crystallites provides more efficient conversion energy and allows the skin a better state for nutrient absorption. Leaves the skin smooth, moisturized and firmed.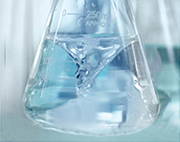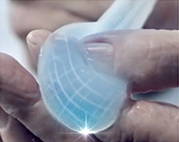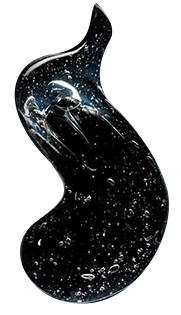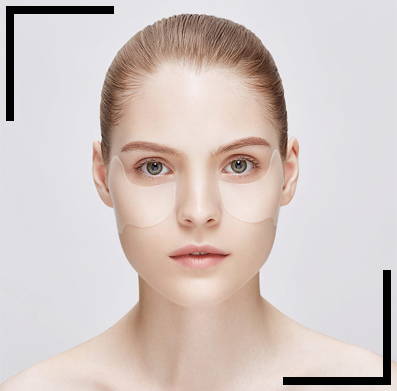 Anti Eye Wrinkle Strips
An innovating technology that is designed to help treat signs of anti-aging in the area below the eyes.
Within 24Hrs Improves the look of wrinkles in the under eye area, enhances skin elasticity, and serves as the perfect treatment for dark circle under the eyes.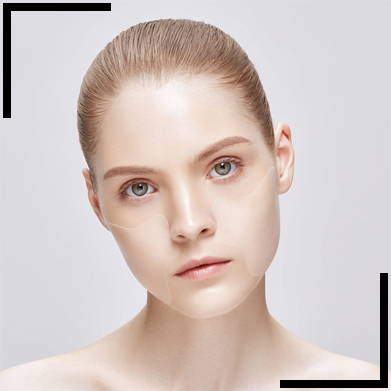 Facial Firming Strips
A combination between antigravity and facial tractiondesign to lift and tighten the muscle in the faceto prevent sagging and wrinkles
Core innovative technology 3
Implementation of new facial ergonomic design
Secret Strips have been mechanically and aesthetics passed through strict scientific research. It has been tailored so that it fits each facial muscle and its movements to ensure that the strips work efficiently at diminishing the look of wrinkles.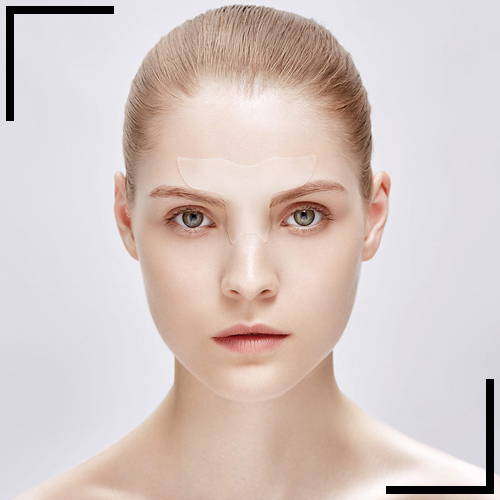 Anti Frown Line Strips
Special design for frown lines combats the look of wrinkles at the bridge of the nose and enhances the skin elasticity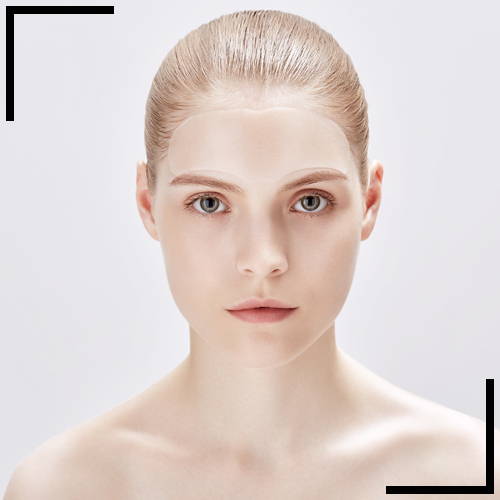 Anti -Wrinkle Forehead Strip
Unique design made for all forehead shapes and movement.Reduces wrinkles, tightens and promotes skin elasticity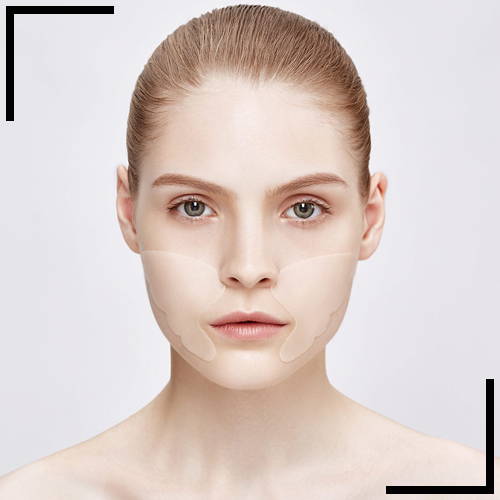 Anti Nasolabial Fold Strips
Butterfly wing wrapping design effectively wraps up all the wrinkles between the nasolabial, facial and lip area. Also prevents sagging and tightens the cheek area.
Where can I buy in Canada ?
You are in advanced mode.
You can turn it off in left sidebar. To use advanced options, you will need to enter your own Google Maps API Key.
Get Google API Key
You are in advanced mode.
You can turn it off in left sidebar. To use advanced options, you will need to enter your own Google Maps API Key.
Get Google API Key