Booster Gun x2

Feel like your youngest self!

What is the Booster X 2 Massage Gun?

The Booster X 2 Massage gun is a massage tool used to treat sore and tired deep tissue muscles after a long and intensive workout at the gym. Feel like your youngest self!The Booster X2 Massage Gun is a lightweight and portable therapy device, designed for deep muscle massage and allows for muscle pain relief and recovery.
It features a shock absorber with a silent brushless motor which gives you a comfortable experience. The device comes equipped with 5 speed and strength variations for the appropriate amount of pressure to relieve your muscle cramps.The Booster X2 Massage Gun also offers 4 interchangeable head attachments for which are customized for different areas of the body: spinal area, full body or pain point massage. Moreover its rechargeable lithium-ion battery allows continuous usage for up to 1 week.
The Booster X 2 uses a specific method called: Percussion therapy. It reaches and treats deep muscles tissue in a more aggressive way than other forms of rehabilitation. The goal of percussion therapy is to speed the healing and recovery process of a cramped muscle, trauma or an injury.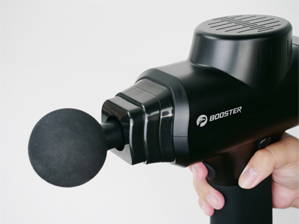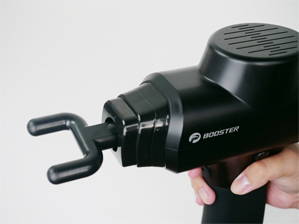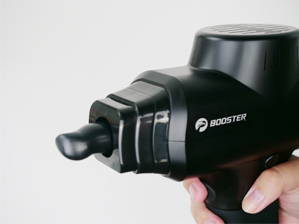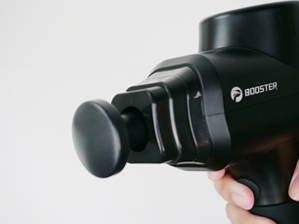 When Should I Use the Booster X 2 Massage Gun?

The booster can be used for Shin Splints, Muscle Spasms & Cramps, Muscle soreness. It is also helpful to use the Booster in conjunction with physical therapy if you experienced an injury or trauma. It's also great for those who have 9-5 desk jobs. Because you're sitting down most of the day, your muscles can ache and become more stiff than usual. The booster helps eliminate all of these problems through a simple therapeutic technique.

What Makes the Booster X 2 Massage Gun Special?

The Booster Pro 2 differentiates itself from the rest of the massage guns and tools on the market because of its range of speed and new noise reduction technology. That means a quiet and quality massage right in the comfort of your home.
The clearing of lactic acid build up in muscles

The breaking down of scar tissue

The release of muscle knots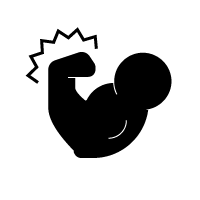 A reduction in recovery time

An increase in blood circulation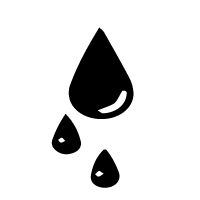 An increase in range of motion