What Are the 6 Benefits of Using the Booster Massage Gun?
As people pay more attention to health issues, many of them choose to exercise to keep fit. Nevertheless, the inappropriate movement or excess amount of exercises could cause several problems like shin splints, muscle cramps and muscle spasms. Therefore, people need a booster massage gun to relieve the pain. Booster Massage Gun X2, the best massage gun 2021, is an excellent choice. 
What is Booster Massage Gun X2?
Before knowing the benefits of the Booster Massage Gun X2, you need to know what it is. The Booster X2 Massage Gun is a massage tool used to treat sore and tired deep tissue muscles after a long and intensive workout. It is a lightweight and portable therapy device, designed for deep muscle massage and allows for muscle pain relief as well as fast recovery. 
How does Booster Massage Gun X2 works?
The Booster X2 uses a specific method called "Percussion Therapy". It reaches and treats deep muscle tissues in a more aggressive way than other forms of rehabilitation. The goal of percussion therapy is to speed the healing and recovery process of a cramped muscle, trauma or an injury.
What are the 6 Benefits from Booster Massage Gun X2?
The Booster X2 massage gun is nothing short of the perfect weapon to improve your body's functionality. Are you feeling sore, tight, and like you can't move? The benefits of the Booster massage gun are numerous and can help. Here are the 6 benefits of using the Booster Massage Gun.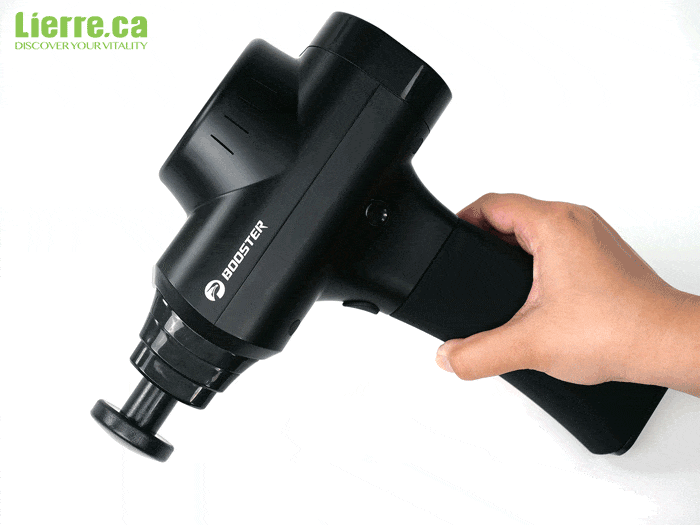 1. Clearing of lactic acid
When we lift weights, lactic acid builds up in our muscles. It's what gives us the burning sensation when we lift, and it's also what can keep us sore the next day. Using a Booster, you break down buildup and give your muscles the chance to restore themselves back to new.
2. Muscle knot release
Feeling like you have a muscle knot you just can't work out? The Booster massage gun zeroes in on these knots, giving you the ability to work them over again and again until they release. This rejuvenates your muscles and allows them a relaxing recovery.
3. Breaks down scar tissue
Sometimes mobility and flexibility issues simply come down to scar tissue. A massage gun breaks down the scar tissue. Your body heals itself after this break-down, helping you regain your natural ability to move, your flexibility, and more.
4. Reduced recovery time
An excellent benefit to what some have called the best massage gun in Canada is a reduced recovery time post-workout on sore muscles and athletic injuries. This means you don't need to wait as long to get back to doing the athletic activity you know and love. Simply by using the massage gun on a regularly scheduled plan post-workout, you improve your health and your ability to function as an athlete.
5. Increased blood circulation
A huge element of why the Booster X2 massage gun is so effective is because of its ability to increase blood circulation. As circulation increases on a designated area, new blood brings nutrients and other healing mechanisms that will serve to repair soft tissue.
6. Increased range of motion
A huge benefit of a massage gun like this is an increased range of motion. The Booster will get your muscles loose and give your body the ability to move in a way it maybe never has or hasn't in a long time. If you have any flexibility or mobility issues, a massage gun is one way to assist in easing those out of you so that you can move like you want and do the activity you want.
In short, you can gain many benefits by using the Booster Massage Gun. It is a good tool that helps you relieve pain as well as recovery. These 6 key benefits are why more Canadians are coming to Lierre.ca searching for the Booster X2 massage gun. The top name in its category, you won't regret picking up this tool and putting it to use!
If you want to find massage gun near you or buy massage gun, do not hesitate to visit Lierre.ca. We offer professional massage gun, fitness tools and massage supplies for you to choose.